Visit our web site at www.crosseyedowl.com

Become a Fan on Facebook


A note from the owner: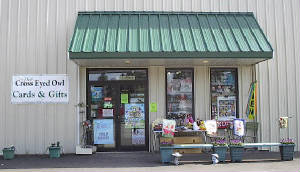 First, let me say what a pleasure it is to go to work every day. For the past 17 years, I have had the opportunity to spend each and every day surrounded by my favorite things and my favorite people! I have lived all my life, in upstate New York, mostly in the town of Kinderhook. With my shop, I have the honor of providing the community with gifts of love & laughter. It is my goal to fill each and every nook & cranny of my shop with cards & gifts to make you, your family & friends smile!
I try very hard to have something for just about everyone on your list! Each and every day there is something new that wasn't there the day before! It takes hours to see everything the shop has to offer. You have to remember to look up, down & all around with each step!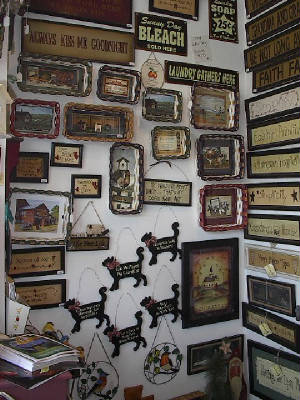 The Cross Eyed Owl offers one of the best selections of stuffed animals in the area and a great assortment of clothing and accessories to fit your American Girl Dolls, Bitty Baby and Bitty Twin Dolls too! We're a little bit country & a little victorian, plus we love our sports and holidays too! For a preview of the latest arrivals check out our what's new page. It is updated as soon as new goodies arrive!

I would like to extend a special Thank You to all of you who visit & shop at the Cross Eyed Owl. It is pleasure getting to know each and every one of you, and that makes me love my job even more! Thanks again - Patti Varga :)
Remember to support your independent retailers. Buy your groceries at the grocery store, your cosmetics & drugs at the pharmacy & your cards & gifts at your local independent gift shop. If you don't support the independents now, none of us will be left!
What's in Store at the Cross Eyed Owl? Local Town Mugs, I Love New York Gifts...plus Jody Coyote, Wild Things, Wild Bryde, Zarah, Silver Forest & Spirit Jewelry, Ty, Russ, Webkinz, All Sorts of Animals, Irish Goodies, Christmas year round, Bears Galore, Sports Goodies, Bath & Body Lotions, Porcelain Dolls, Willow Tree & Heartwood Creek Angels, Woodstock Chimes, Wedding Gifts, Apples, Adirondack Decor plus much more!